A program that takes a holistic approach to leadership by bridging the gaps in the communities
The Bridging Leadership Workshop produces 16 projects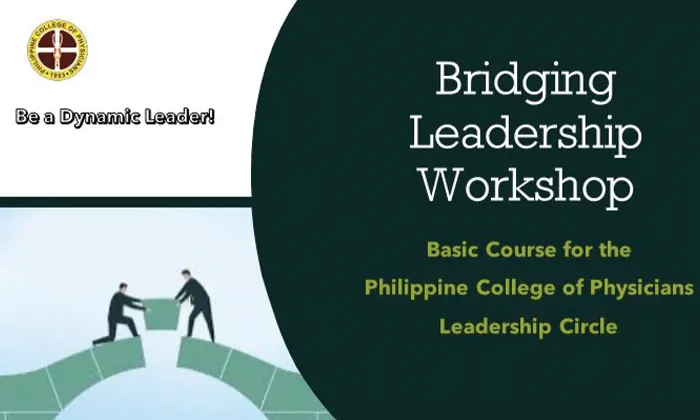 The Bridging Leadership Workshop is a project that falls under the Transformational Education thrust of the Foundation. It is an 8-week course designed to empower PCP members to produce transformative work with the vision of addressing the challenges within the community.
As part of the Bridging Leadership Workshop curriculum, the 36 participants were challenged to examine their surroundings and propose interventions to community problems. The workshop served as a vehicle for the participants to better understand the value they can bring to their respective communities. 16 projects were submitted and most of the projects have potential for replication since these have tangible and relevant impacts to public health and other social development outcomes.
The 16 projects are:
Community Engagement
"Magpangaman gamit ang BOTA, Leptospirosis matana ta" (Prevention of Leptospirosis among Farmers in Cabatuan, Iloilo)
By: Dr. Aime de Asis-Fabila
The Sweetheart Project: Improving Health Outcomes through Community Empowerment of High-Risk Indigent Hypertensive and Diabetic Patients of Barangay San Isidro Village, Virac, Catanduanes
By: Dr. Marjorie L. Lamban
Basic Life Support, Health Screening and First Aid at community level in cooperation with the Boy Scout of the Philippines
Empowering the Community through Enhancing Health Literacy Against Chronic Kidney Disease
By: Dr. Alan S. Tolentino
Telemedicine
Integrating Case-based Learning for Rural Health Providers through Telehealth to improve Clinical Health Outcomes" (PCP Ilocos Abra)
By:  Dr. Ellen M. Palomares and Dr. Florina C. Corpuz
Clinic in the Cloud (Telemedicine in the far-flung Barangays of Malinao, Aklan)
By: Dr. Vim Samonte and Dr. Donna Ilio
Use of Telemedicine Use to Provide Essential Health Services in Barangays of Poblacion Valencia, Bukidnon
By: Dr. Hazel Grace Anggot-Talingting
Vaccine Hesitancy
Augmentation of Covid 19 Vaccine Delivery in the Municipalities of La Union with the Lowest Vaccine Acceptance through PCP
Tri-media Approach to Address Covid-19 Vaccine Hesitancy in Maguindanao
"Bakunahan sa Rizal"
By: Dr. Ma. Clarina Florianne DG. Lopez
"Resbak para sa Kalusugan" (Health Promotion/Education to Help Fast-Track Vaccination)
"Resbakuna PCP-CL Plus" (Reinforce Vaccine Acceptance)
Dr. Rommel B. Punongbayan
"Resbakuna Now Na!" (Pangasinan)
Dr. Frances Therese Bachar
Membership Engagement
Marikina TALKS (Information Dissemination for Advocacy)

Establishment of Blood Donor Pool
Leptospirosis Campaign
By: Dr. Nerissa de Guzman-Binoya, Dr. Marjorie Rose F. Bravo, and Dr. Rocky Balboa
PCPNM 1st Virtual Postgraduate Course – IM Beyond: Striving Amidst the Pandemic
By: Dr. Mark G. Sarmiento
Balik PCP Capiz-Aklan: Rehabilitation of Panay River; Waste Management
By: Dr. Mitzi Y. Banate and Dr. Jo-Anne V. Bisnar
Ready to find out more?
Contact PCP Foundation today!