PCPF Inc., holds its Annual Membership Meeting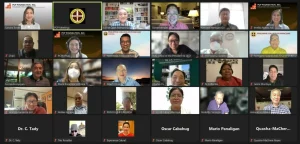 The Philippine College of Physicians Foundation, Inc. conducted its Annual Membership Meeting last Saturday, June 25, 2022. The meeting was held via Zoom, and a quorum was met with 30 members present.
Administrative updates and accomplished projects for 2021 were presented to the PCPF members. Other recent Foundation endeavors, such as The Bridging Leadership Projects  and The Dr. Arturo B. Rotor Literature Awards, were described in detail to the people in attendance.
Included in the meeting agenda was the PCP Foundation Board of Trustees election for the year 2022. Dr. Priscilla Caguioa, a member of the Nomelec, was proud to announce the following candidates as the Board of Trustees of the Foundation for the year 2022.